Elegance in a China Cup
Tea parties gain popularity with Eastern North Carolina women
By Spaine Stephens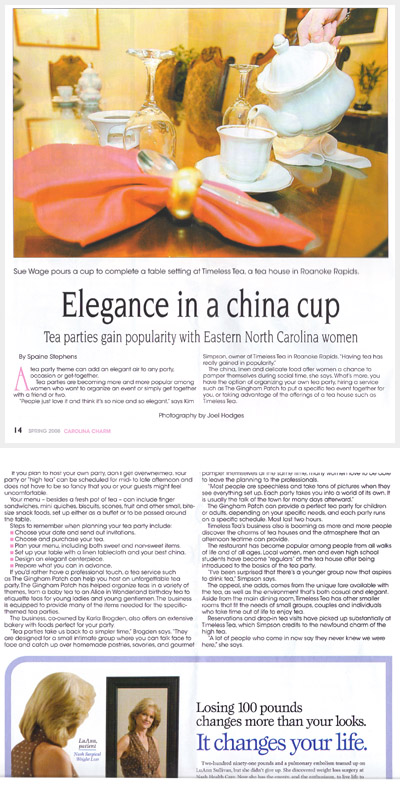 A tea party theme can add an elegant air to any party, occasion, or get-together. Tea parties are becoming more and more popular among women who want to organize an event or simply get together with a friend a too. "People just love it and think it's so nice and so elegant," says Kim Simpson, owner of Timeless Tea in Roanoke Rapids. "Having tea has really gained in popularity."
The china, linen and delicate food offer women a chance to pamper themselves during social time, she says. What's more, you have the option of organizing your own tea party, hiring a service such as The Gingham Patch to put a specific tea event together for you, or taking advantage of the offerings of a tea house such as Timeless Tea.
A tea party can be the perfect event if you opt not to hold a dinner party or lunch celebration. Teas are perfect for bridal or baby showers or birthday celebrations.
If you plan to host your own party, don't get overwhelmed. Your party of "high tea" can be scheduled for mid- to late afternoon and does not have to be so fancy that you or your guests feel uncomfortable.
Your menu – besides a fresh pot of tea – can include finger sandwiches, mini quiches, biscuits, scones, fruit and other small, bite-size snack foods, set up either as a buffet or to be passed around the table.
Steps to remember when planning your party include:
Choose your date and send out invitations
Choose and purchase your tea
Plan your menu, including both sweet and non-sweet items
Set up your table with a linen tablecloth and your best china
Design an elegant centerpiece
Prepare what you can in advance
If you'd rather have a professional touch, a tea service such as The Gingham Patch can help you host an unforgettable tea party. The Gingham Patch has helped organize tea in a variety of themes, from a baby tea to an Alice in Wonderland birthday tea to etiquette teas for young ladies and young gentlemen. The business is equipped to provide many of the items needed for the specific-themed tea parties.
The business, co-owned by Karla Brogden, also offers an extensive bakery with foods perfect for your party.
"Tea parties take us back to a simpler time," Brogden says. "They are designed for a small intimate group where you can talk face to face and catch up over homemade pastries, savories, and gourmet teas. There is just something relaxing about drinking a cup of tea with your friends."
With the perfect opportunity to spend time with friends and pamper themselves at the same time, many women love to be able to leave the planning to the professionals.
"Most people are speechless and take tons of pictures when they see everything set up. Each party takes you into a world of its own. It is usually the talk of the town for many days afterward."
The Gingham Patch can provide a perfect tea party for children or adults, depending on your specific needs, and each party runs on a specific schedule. Most last two hours.
Timeless Tea's business also is booming as more and more people discover the charms of tea houses and the atmosphere than an afternoon teatime can provide.
The restaurants has become popular among people from all walks of life and of all ages. Local women, men and even high school students have become "regulars" at the tea house after being introduced to the basics of the tea party.
"I've been surprised that there's a younger group now that aspires to drink tea," Simpson says.
The appeal, she adds, comes form the unique fare available with the tea, as well as the environment that's both casual and elegant. Aside from the main dining room, Timeless Tea has other smaller rooms that fit the needs of small groups, couples and individuals who take time out of life to enjoy tea.
Reservations and drop-in tea visits have picked up substantially at Timeless Tea, which Simpson credits to the newfound charm of the high tea.
"A lot of people who come in now say they never knew we were here," she says.
© 2008 Carolina Charm Magazine.