So excited! My Father's Day Tablescape was featured in USA Today…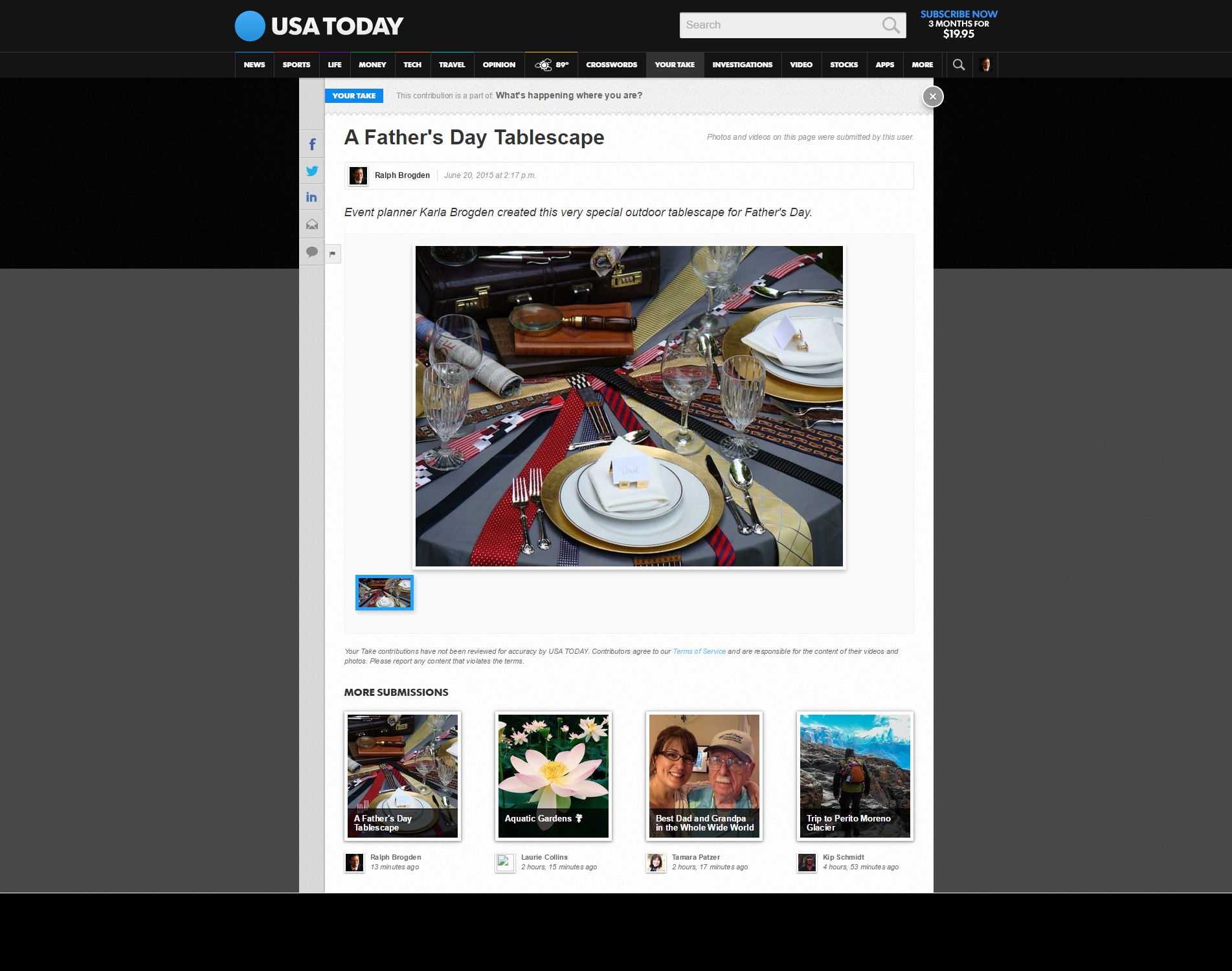 This Father's Day I wanted to create a very special tablescape with my husband in mind. I didn't want to just throw some generic table together. I wanted a special table to reflect him in every aspect.
This year we would be short one child as our oldest was spending the summer in North Carolina. So the table would be for three. The weather was perfect! Sunny and warm so I set the table outside to take advantage of that. Using all aspects that fit my husband, I brought in neckties, cuff links, a brief case, newspapers, journals, books, coffee beans, pens and pencils. Every part of this table would echo him.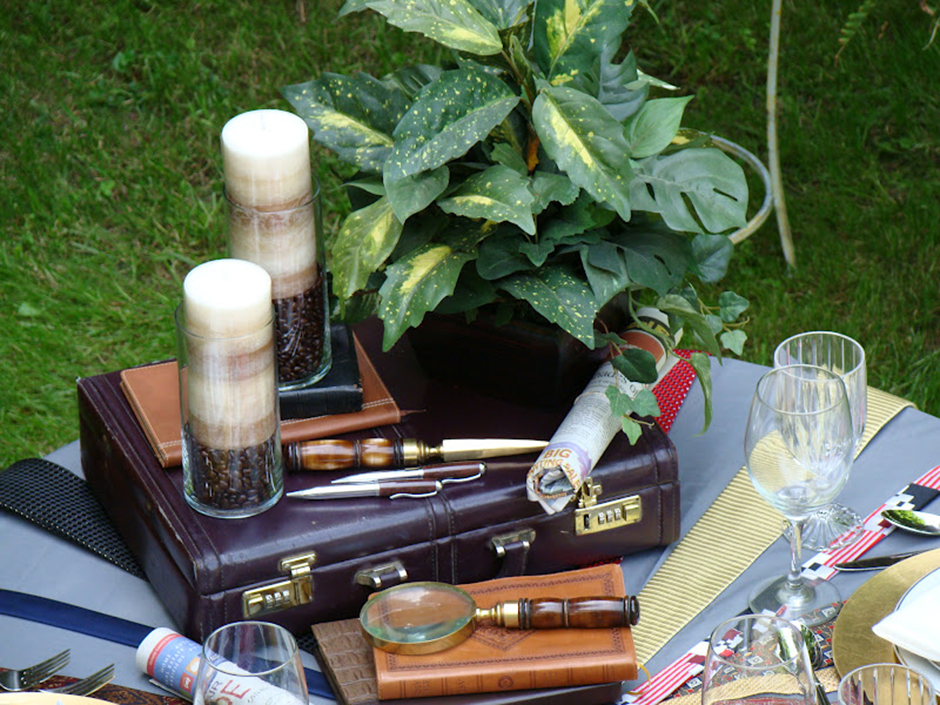 I started with a grey sheet and puddled it around the bottom of a round table. Next I topped the grey with lots of neckties. For the place settings I used gold chargers with my gold-trimmed white dishes for a classic touch. Each plate was topped with a Ralph Lauren linen napkin folded the way you would fold a handkerchief for a man's breast pocket. For place cards I used sets of his cuff links with name cards our daughter hand wrote. The Napoleon Bee flatware added a little sparkle. Since there would only be three of us I used the fourth place as the centerpiece of the table. I placed an artificial floral arrangement on top of one of his briefcases, along with two candles resting on coffee beans in clear glass containers on the other side. I filled the space in with a pen, pencil, magnifying glass, journals, and rolled newspapers to complete the ensemble.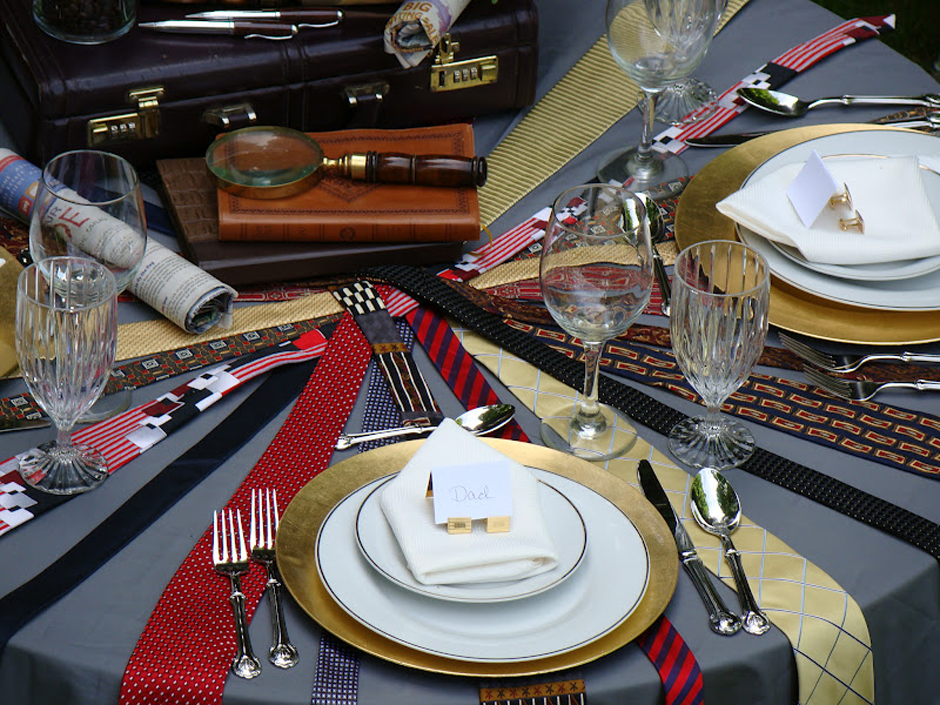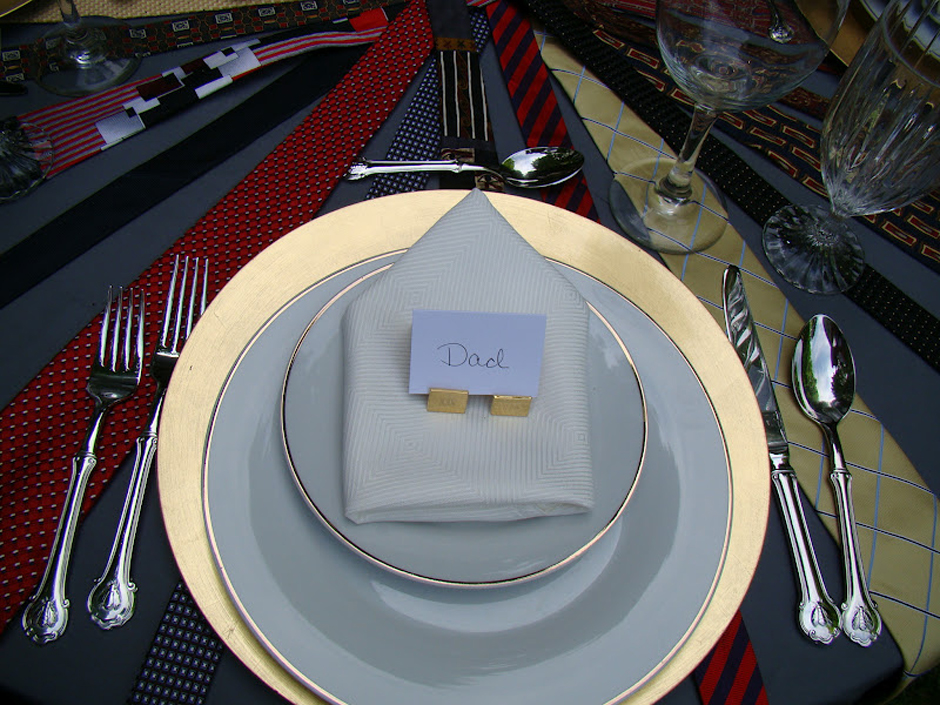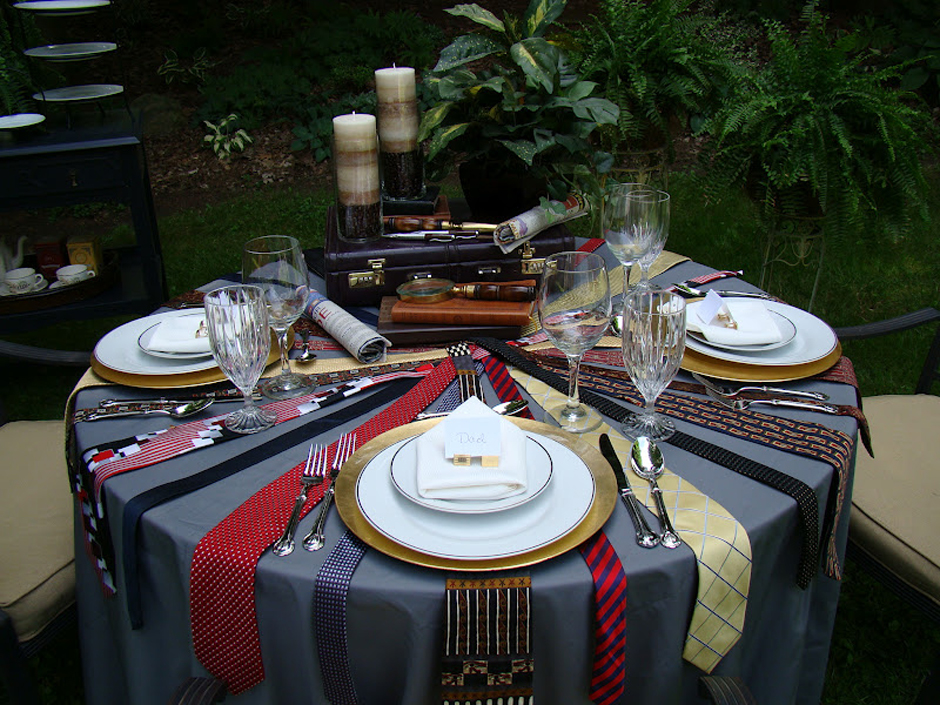 For the buffet I pulled out an antique table I had in the barn. I staggered some of his large books to one side with a large fern on top, then added a few more candles. On the other side I placed one- and three-tier plate stands to hold the food and a tea service under the bottom served on a decorative tray.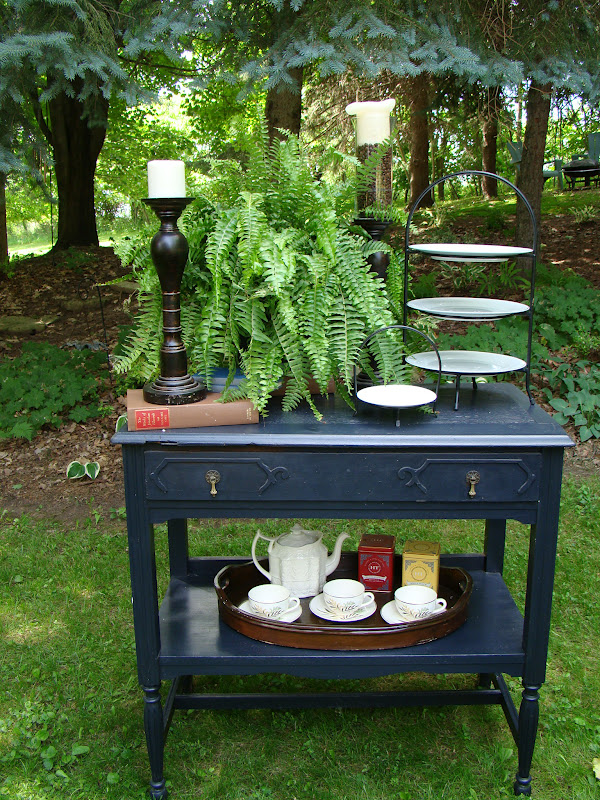 To finish the setup and make it feel more like an outdoor room, I brought in two more ferns sitting off to the side on stands.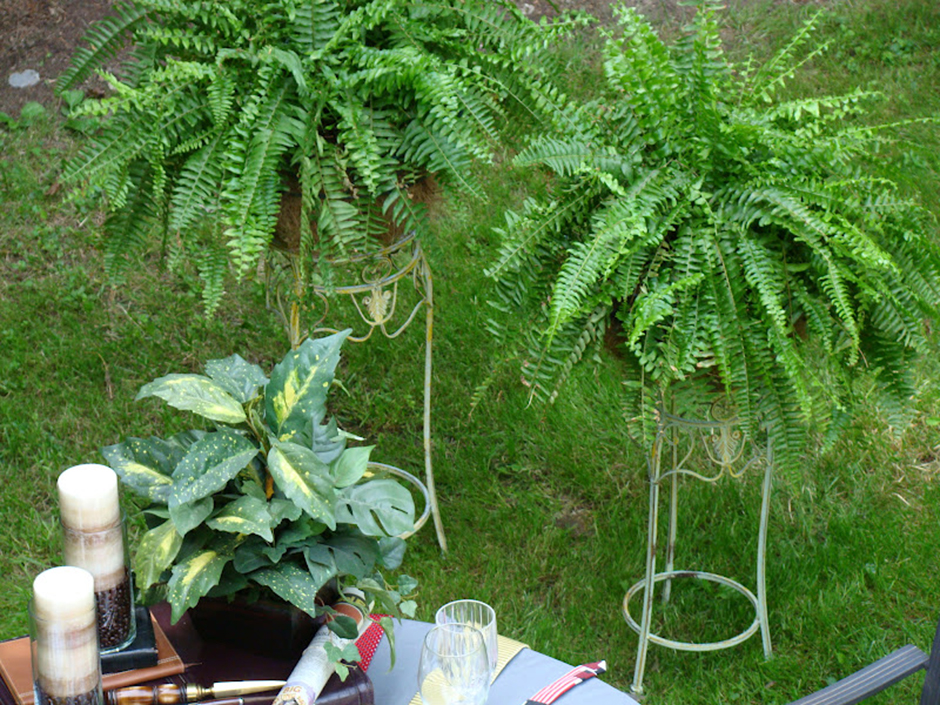 The menu included a few of his favorite foods: deviled eggs, roasted asparagus, and Chicken Parmesan with marinara. For dessert I served a scoop of his favorite ice cream, with a gourmet brownie and fanned a strawberry for color and pizazz.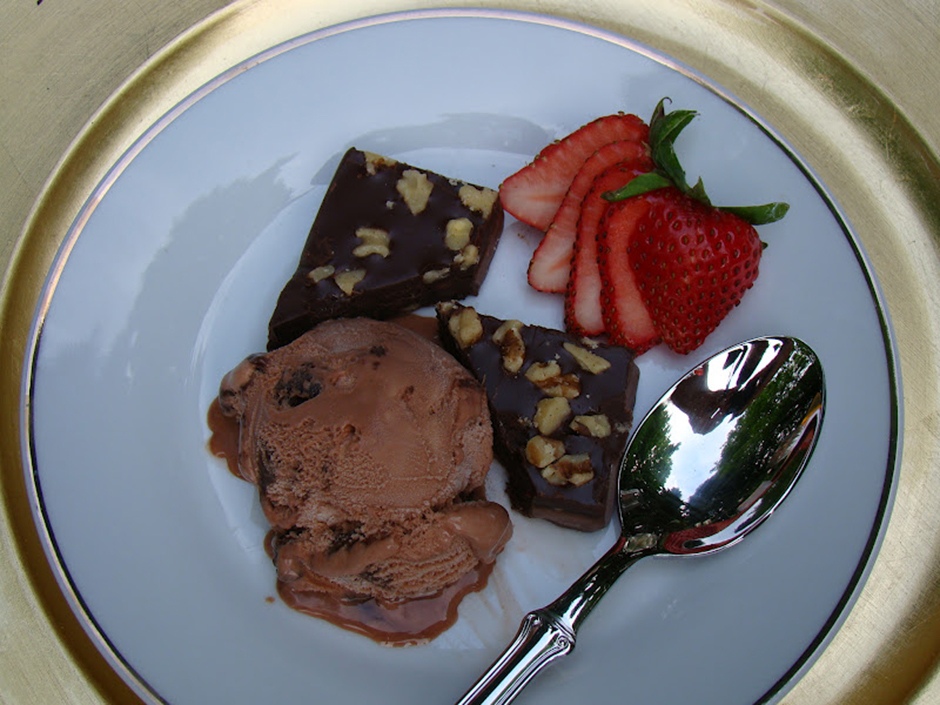 Father's Day was a very relaxed, enjoyable day. We had a wonderful time dining outside and celebrating a terrific husband and father. Hope you have a wonderful Father's Day also!